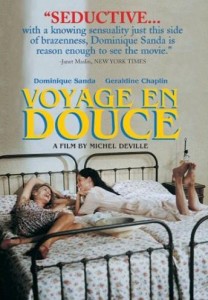 I don't think you'll see this film in too many places but it's one of my favorites. Starring Dominique Sanda and Geraldine Chaplin, Le Voyage en Douce is one of those soft, erotic French films that no other country seems to be able to emulate. I first saw the movie in the '80s and then again in the early '90s. It's been stuck in my memory since the start.
Based on 15 separate stories, the movie seems to move seamlessly  from one erotic episode to another. Dominique Sanda seems to be the initiator while Geraldine Chaplin is the naive apprentice. Chaplin, however, seems very eager to learn from Sanda. The interaction is delightful, funny and tender.
Le Voyage en Douce was directed by Michel Deville, director of La Lectrice, another classic. If you aren't familiar with European films, specially French films, you will notice the lack of a 'sound track'. American films can't seem to shut up sometimes. There is always music etc. to fill the spaces but in this film (and many others) the director gives us silence when there is no dialogue, allowing only ambient noises to creep in. When Sanda is in the dark summer house, we hear the crickets and the summer sounds. Sure they were probably cranked up a bit but the effect is very beautiful. French films, for the most part, are simply more mature than most American movies, assuming that the viewer is intelligent and discerning enough to figure things out on their own.
Trivia: In some French films you will not hear music until the actor turns on a radio. Otherwise, the directors thought, the audience wouldn't know where the music is coming from. American movies seem to continually have a full orchestra, even in the middle of a battlefield or out in the empty prairie.
Although there is some nudity in the movie, there is nothing hard or coarse. Anything sexual or erotic is innocent, deftly handled and sweet. Having two female leads adds to the overall effect. Not that men can't be tender and sweet but in this film we get the feeling that men just aren't needed, at least not during the period shown during the movie.
The film has been described as being 'aimless' (Janet Maslin of the New York Times). I suppose it is but is that any different from having cops chasing a McGuffin endlessly through a film? The aimlessness is a vital part of the feeling in the movie, part of the endless summer feeling that pervades this classic.
If you can, check this movie out. I'm not sure where you'll find it but take some time to look. Maybe you won't agree with my assessment but you'll have a relaxing 98 minutes regardless.
Thanks for reading!