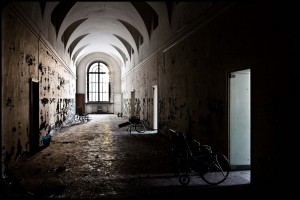 I'm not a fan of slash films at all but I do enjoy…sometimes…a psychological thriller. Session 9 is one of the best that I've ever seen. When someone asks about 'scary' movies, I tell them to try Session 9. Then I challenge them to watch it by themselves.
This review doesn't contain any spoilers, don't worry. Even if I did describe what goes on it the movie, it would still be terrifying. What actually happen, as in the plot of who did what, doesn't have anything to do with the punch it packs. The setting, the pace, the acting and the direction combine to create a memorable and terrifying horror film.
The movie was made in 2001, back when its star, David Caruso, could act. Whatever you do, don't pooh-pooh this film just because Caruso is in it. You'll be making a big mistake. Coincidentally, Paul Guilfoyle, another CSI alumnus, is in the movie as well. Brad Anderson directs, you can see his bio here at the IMDB .
The Danvers State Hospital in Danvers, Massachusetts serves as the setting. Here's how it looked at one time: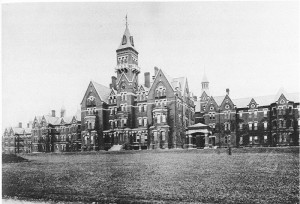 The film's pace is never too fast, never too plodding. Days go by and incidents happen, there isn't a low moment in it but there are many times when you wish things would pick up, just to allay the terror that builds and builds and get it over with, to release you from the hold that immobilizes you.
I'm a bit surprised that Anderson didn't stick to this genre, simply because he'd done such a fine job here. The film has had mixed reviews and didn't do well at the box office but it has become a cult classic, and for good reason. I would describe it as a taut thriller that grabs your nerves and never releases them until the end. You'll never hear the question, "What are you doing here?" without thinking of Session 9.
I should mention that this movie is similar in some ways to Don't Look Now with Donald Sutherland and Julie Christie. The Wiki on this movie suggests that the two are similar but there are some differences. The story or plot is certainly stronger in Don't Look Now but the tension and handling of suspense is certainly better in Session 9. Don't Look Now depends on surprise at the end, unfortunately, while Session 9 never stoops for a cheap shock.
Thanks for reading!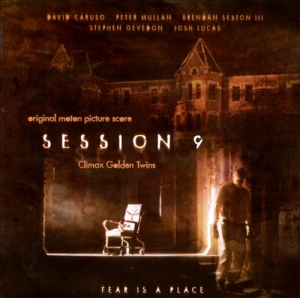 Soundtrack