Jacques Tati only directed six feature films but is listed at number forty-six in Entertainment Weekly's top directors of all-time. Trafic, made in 1971, is one of the reasons for this. In terms of sight jokes and off-beat comedy, Trafic is at the top of my list.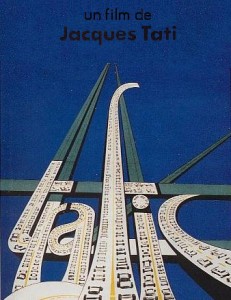 Don't expect dialogue to save the day here. Tati expects you to simply watch the film and pick out as many of the funny moments as possible. Some are in plain sight, some are gags that only a few viewers will get. No worries, you can watch the film several times without being bored and, I bet, each time you will see jokes that you missed before.
At the time that Trafic was made, auto shows were huge in Europe. Car racing, as a matter of fact, was huge too. Making a film that is car-centric wouldn't make much sense today but back in 1971, it made all kinds of sense. Europe's love affair with the automobile has faded somewhat but car lovers will have fun looking back on the various models shown here. With names like Citroen, Peugeot, etc., France had a booming industry in the '70s, as did many European countries. In this single Youtube scene from the movie, see how many classic models you can pick out:
A short scene from Trafic on Youtube.
Cinematically, Trafic is quite stunning by times. The snippet shown on Youtube gives you some sense of that. Notice the close-ups that convey the congestion on the highway and in the parking lot. Cinematographer Eduard van der Enden is to be complimented for his work here. Sections of the film would work very nicely as a stand-alone experimental film. If you've ever seen Castro Street by Bruce Baillie, you'll get the gist of what I'm talking about. Close-ups, abstract views of cars and highway lines, they're all here.
For me, the opening sequence in the great hall is reflective of the type of humor in the film. In a long shot, we see people moving around in a wide open space, stopping every few feet to lift their legs. Only when we get closer do we see that they are actually stepping over the strings that divide each display spot from the one next to it. Over thirty-five years have passed since I saw it first and that scene is still fresh in my mind.
There is a bit of a story that links the film's funny bits together. If there was to be a star of the movie, Mr. Hulot would most likely be it. Hulot is a relic from the early '50s when Tati was making films such as Mr. Hulot's Holiday. In some of the works, Tati played the character of Mr. Hulot himself.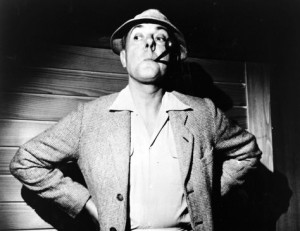 If you get a chance to see Trafic in a rep theatre or online, you'll enjoy it. Look for little sight gags here and there but don't lose track of the theme, that of the modern world's congestion and confusion which, unfortunately, has only gotten worse.
Thanks for reading!  If you've seen a good film recently, let me know what it is. If it's good, I'll write about it.